The State of the Streets: A conversation with Police…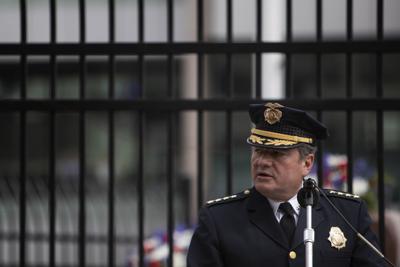 Denver chief of police Paul Pazen gives the final speech on Thursday, May 19, 2022, during the Denver Police Department's annual fallen officers memorial ceremony at the department's administration building in Denver, Colo. (Timothy Hurst/The Denver Gazette)
We all know about the State of the Union address our president delivers to Congress every year. Our governor does multiple State of the State speeches around Colorado, and Denver hosts several State of the City events, including one just last Thursday sponsored by the Denver Chamber of Commerce.
All fine and good, but who will tell us about the State of the Streets? What is the true state of crime in Denver? Or the state of police reform? Of homelessness? Of the flood of deadly drugs into Denver? Of addiction and mental illness? Gangs and illegal guns? Lawlessness at Union Station?
Welcome, then, to the first Colorado Conversation on the State of the Streets, hosted by the Colorado Politics and The Denver Gazette and featuring the one person at the center of all those storms – Denver Police Chief Paul Pazen.