Slain Arvada officer Gordon Beesley receives hero's sendoff at…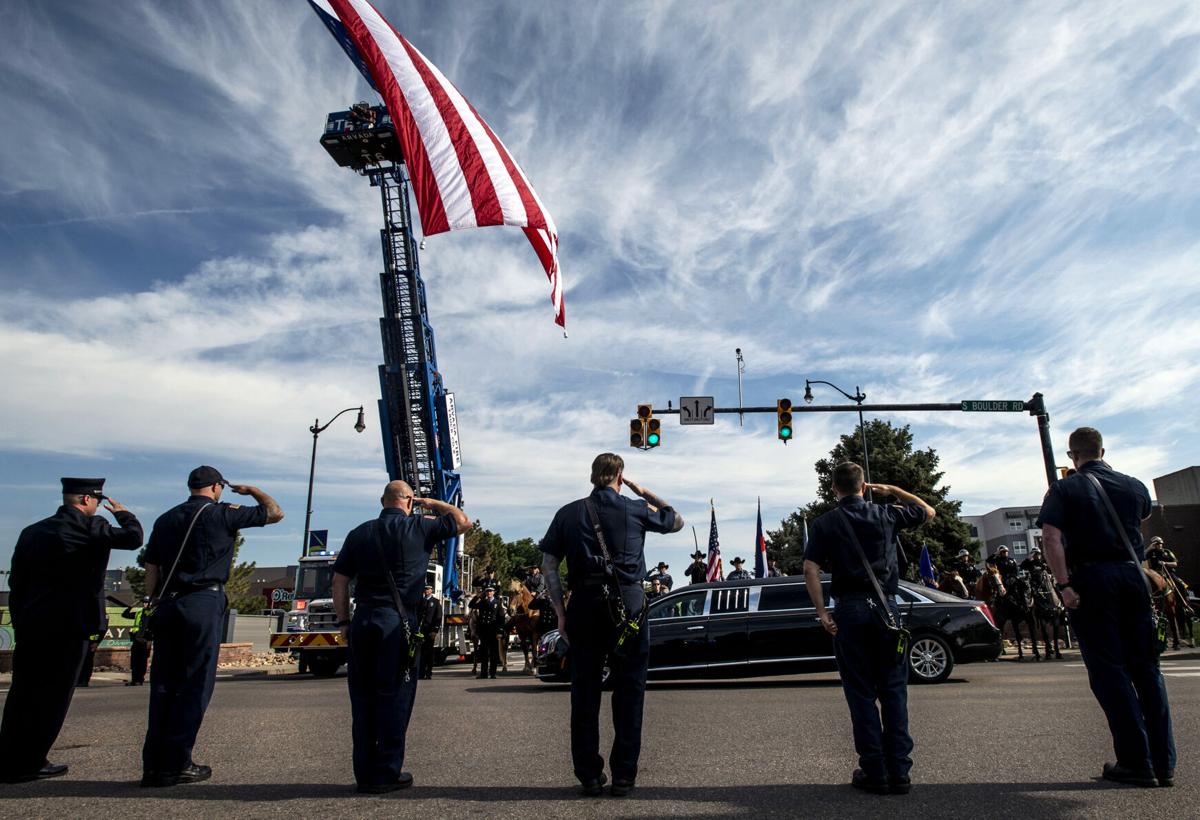 Law enforcement and  first responders pay their respects to slain Arvada police officer Gordon Beesley durin a
funderal procession in Lafayette, Colo., on Tuesday, June 29, 2021.  A funeral was held at the Flatirons Community
Church for officer Beesley, who was a 19-year veteran of the Arvada Police Department.  Officer Beesley was killed
by a gunman in Olde Town Arvada plaza on June 21, 2021.  (Chancey Bush/The Gazette)
The Arvada police officer killed in an ambush last week received a hero's farewell at Flatirons Community Church in Lafayette on Tuesday morning, three months after the church gave a similar sendoff to a Boulder officer.
Those who took the podium to share memories of officer Gordon Beesley painted a picture of a warm-hearted man devoted to his family and who naturally made people around him laugh.
"It's impossible to separate Gordon the police officer from Gordon the person," said Arvada Police Chief Link Strate. "And that's because his character and his personality shone through in everything he did."
Pastor Jim Burgen of Flatirons Community Church said the "thin blue line," a symbol widely used as a signal of support for law enforcement's role in protecting public safety, is akin to a sunrise. He also made the comparison at officer Eric Talley's funeral. Talley was killed in March's massacre at Boulder's southside King Soopers.
"It's the thin blue line of light between the darkness and the daylight," Burgen said.
Before the eulogies, law enforcement officers placed dozens of blue roses in vases flanking the stage to represent each agency present as other officers walked past Beesley's casket to salute him. A memorial sat on display with a patrol motorcycle and an American flag with Beesley's personal mantra to always look for the good in things and people.
Beesley was fatally shot June 21 in an ambush in Olde Town Arvada while responding on foot to an unrelated call, according to police.
Beesley spent 19 years with the Arvada Police Department working as a patrol officer, in the traffic division on his motorcycle, and later as a school resource officer at Oberon Middle School.
"Gordon noticed the kid nobody else noticed. Made them feel special," Burgen said.
He said Beesley spent time building and repairing bicycles to give away to kids at school, and each Tuesday and Thursday morning he went to the home of a student with special needs who couldn't ride to school by himself so they could ride together.
A talented musician, Beesley would also dress up each holiday season and play Christmas songs at school, Strate said.
"It hurts my soul to have to use past tense when talking about officer Beesley," said Amanda Gelow, a student at Oberon who spoke in a video shown at the service.
She didn't have many friends in middle school and looked forward to spending time with Beesley, she said.
"I find myself questioning, why did God always pick the good ones? But I can find no better answer than, when you pick flowers, which ones do you pick?"
More of Beesley's friends, family and fellow officers shared a flood of fond memories, whether about Beesley adopting his beloved dog or swapping jokes and advice about life as new fathers.
Laughs echoed through the room when Burgen shared a story about how Beesley met his wife when she had recently broken up with another boyfriend, and he was a "goateed, mutton-chop-sideburned, motorcycle-riding musician."
"I'm not sure how long this raw emotion and sadness will last. The pain can be overwhelming. But I promise you, his memory won't invoke that in us forever," Strate said. "His memory will be a blessing. His memory will help guide us to be more like Gordon.
"You not only humanized our badge. You made us better people."
Beesley left behind his wife and two teenage sons, whom Beesley's friends and colleagues said he was proud of and talked about constantly.
According to Arvada police, the only official way to make donations to Beesley's family is through the Colorado Fallen Hero Foundation, which will accept donations through July 21.
The outpouring of affection for Beesley on Tuesday provided a sharp contrast to the circumstances of his death.
Authorities say the man who shot Beesley had expressed hatred for police and targeted him because he was an officer. A video clip released Friday shows the man pulling into a parking lot and then running toward Beesley, firing when Beesley turned in his direction.
After the eulogies, a dispatcher's voice came over a loudspeaker calling Beesley's end of watch.
"All cars be advised, this is the final call for … officer Gordon Beesley, badge number 0219. Officer Beesley was fatally shot while responding to a call for service on June 21, 2021, after serving the citizens of Arvada for 19 years. He was an outstanding officer and amazing person, and will be deeply missed," she said.
"Officer Beesley, you are clear for end of watch. Rest in peace, Gordo, we'll take the beat from here. Code one cleared on channel one."
Julia Cardi julia.cardi@gazette.com
June 29, 2021  Updated June 30, 2021
Reprinted from Slain Arvada officer Gordon Beesley receives hero's sendoff at funeral | Local News | denvergazette.com