PERSPECTIVE: Flawed policies cause a crippling crime wave by…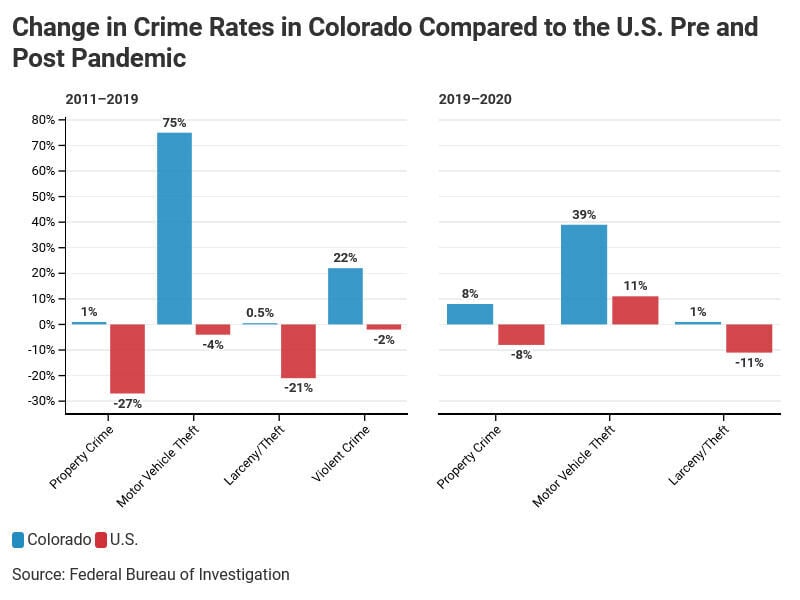 Pick up any paper or tune in to the evening news on any given day — it is no surprise — Colorado is in the middle of a crime wave. Colorado's crime numbers rival those of the infamous 1993 "Summer of violence."
In 1993, Denver experienced 74 homicides —so many that Gov. Roy Romer called a special session of the legislature to address the explosion in violent crime. This year, Denver is home to nearly 100 homicides.
We hear stories from family, friends, neighbors and local small business owners, ranging from their personal encounters with vandalism, to car theft to assault, rape and murder. Everyone has a story about how they or a loved one have been impacted by crime and every single one of them is a senseless, tragic threat to our quality of life.
Colorado remains a great place to raise a family, albeit an undeniably less safe one. Like most Coloradans, we are raising our families, building businesses and getting outside to enjoy some of the best outdoor recreation the world has to offer. Rampant crime in our communities put each of those efforts in jeopardy. How do we save our state and keep it safe for families, businesses, and tourists?
We must turn the tide on crime. But how?
It is simply not enough to stand on the sidelines and call out warnings to be safe or lock your doors. As former district attorneys representing nearly one in three Coloradans, we know that slowing the crime wave is a matter of life and death, not a public policy challenge. We must make it a priority. In fact, this is one of the biggest challenges Colorado has faced in decades. We must engage. Immediately.
Initially, we sought to understand the breadth and depth of the issue. Earlier this summer, we joined forces with Common Sense Institute, a highly respected, non-partisan research organization dedicated to the protection and promotion of Colorado's economy. Together with CSI, we performed an exhaustive search of available data to identify the facts and separate them from the hype.
Assessing the magnitude of the numbers was just the first step in our analysis. We sought to quantify the cost of crime in Colorado and to understand the economic impact it has on our communities. Analyzing the data was not enough. We also developed recommendations for policy makers to begin to turn the tide.
How big is the crime wave?
The numbers are breathtaking. Murder is up. Assault is up. Property crime is up. And, in 2020, Colorado had the highest motor vehicle theft rate among all states. Sadly, we are now a leader in categories that no one envies and that is bad news for our state.
Consider these statistics:
 The average monthly crime rate in 2021 is 28% higher than 2011 and 15% higher than 2019.
 Colorado had the #1 highest increase in its property crime rate between 2011 and 2020 among all states.
 Colorado's violent crime rate in 2020 was 35% higher than 2011. Nationally the rate grew only 3%.
 The 2020 murder rate was 10% higher than in 2011.
 The rape rate was 9% higher, with assault up 40%.
When it comes to motor vehicle theft, once again, we are a leader in a club we never wanted to join. Where just a few short years ago we trailed the national average, Colorado claims the highest motor vehicle theft rate among all states in 2020. In the last ten years, the Colorado rate has increased by a whopping 135%, while the national rate increased just 3%.
Two of the most significant areas of growth in costs and impacts are motor vehicle theft and retail crime. While the increase in violent crime is the most frightening and pressing, it is also important to note the impacts related to the spike in auto and retail theft have significant costs and a connection to the increase in violent crime. In 2020, there was a 45% increase in robbery-carjackings and a 32% increase in burglary-breaking and entering crimes charged at the same time as the auto thefts.
How much is this costing us?
Quantifying the cost of crime in this study included both tangible and intangible costs. Tangible costs have a direct transactional cost associated with them, such as stolen or destroyed property. Intangible costs are more difficult to quantify because you cannot put a price on lost lives, anguish, mental health or personal injury. We developed a conservative estimate that includes both medical bills and massive time and resource commitments to pursue legal charges. Federal, state and local taxes pay for policy, courts and our prisons and jails.
The costs are staggering — more than $27 billion total crime-related costs in 2020. While costs are disproportionately felt by victims, $27 billion in total costs represents an average cost per Coloradan of $4,762 a year.
Consider the enormity of a $27 billion price tag. It is a huge number and equates to 77% of the entire state budget. Or, for you sports fans, the tangible costs alone total $8.5 billion, or $1.5 billion more than the combined total market value of the Broncos, Nuggets, Rockies, Avalanche and Rapids. Significant increases in organized retail crime and motor vehicle thefts contributed between $1.2 and $1.6 billion to total costs.
Why?
Our assumptions about the crime wave changed as we embarked on this study, and as we began to uncover and better understand the facts. Colorado is bucking a national trend. Nationally, the property crime rate has consistently fallen for the past three decades. Not so in Colorado. The property crime rate has remained largely flat or even increased slightly since 2009.
Some may point to the upheaval surrounding the pandemic or recent calls for defunding police and reforms as the catalyst for the crime wave. Unfortunately, we found in this data that Colorado crime rates were on the rise long before many of us ever learned the word epidemiologist or the term "social distancing." Which raises the question: Why is Colorado leading the nation in auto thefts? Why are our crime rates rising faster than other states? What are we doing wrong? What's the common denominator?
The answer lies in our public policies. There is indeed a correlation between rising crime rates and public policies enacted in the last 10 years.
The primary and consistent policy trend in Colorado has been to discourage the jailing of those arrested for committing crimes, and to reduce the severity of punishment for those convicted. However well intended, these recent policies have drastic unintended consequences. Moving forward, these policies must be monitored to ensure the costs from the consequences do not outweigh the anticipated benefits.
The outcomes across the criminal justice system reflect how one-sided policy changes over the years have altered the system. The trends across bond practices, parole rates and incarceration levels all point to a system tipping further away from accountability.
Consider the numbers on two key issues: bonds and incarceration levels:
Bond, Parole and Arrests:
 The number of Personal Recognizance (PR) bonds in Denver increased by 61% over the last two years and has even increased for more serious crimes. PR bond issuances have increased by 254% for Class 2 felonies from 2018 to 2020.
 In 2020, there were 538 $1 bonds issued in Denver and in 2021 there were 562. Comparatively, between 2017 and 2019, there were only two.
 In 2021, 70% of arrests were of people who had at least one other offense in the prior three years. 54% had multiple offenses in the same year and 30% of arrests in Denver in 2021 were of individuals with five or more arrests since 2018.
Incarceration levels:
 Between 2008 and 2021, the Colorado prison population declined by 23%, or by more than 8,000 inmates.
 During that same period the total number of annual crimes increased by 47% or by 131,399 annual crimes.
While the goal to provide felons smoother pathways to be productive members of society after incarceration is a worthy cause, the consequences to the community must be prioritized. In other words, bad guys on the street translates to higher crime rates. The numbers speak for themselves.
Colorado's recidivism rate is among the top five in the nation. Sixty five percent of individuals arrested in Denver in 2021 had been arrested at least one other time since 2018. Even more shocking, 30% of individuals arrested — nearly one out of every three — had five or more arrests since 2018.
The bottom line, redemption and rehabilitation should not take precedence over the safety of law-abiding citizens. The starting point for reforming our policies on crime should be a systematic and transparent review of our current systems and how they are working. By addressing the different aspects of relevant and actionable indicators we will achieve deeper insights into where system-level problems are occurring, causing our increasingly alarming crime rates.
George Brauchler served as the elected district attorney for the 18th Judicial District from 2013 to 2021. The district is the state's most populous and includes Arapahoe, Douglas, Elbert and Lincoln counties. Mitch Morrissey served as the elected district attorney for the 2nd Judicial District, which includes all of Denver, from 2004 to 2017. Brauchler and Morrissey are criminal justice fellows with the Common Sense Institute.
Reprinted from PERSPECTIVE: Flawed policies cause a crippling crime wave | Columns | denvergazette.com