PERSPECTIVE: Denver chief explains Colorado's soaring crime rate/The Gazette…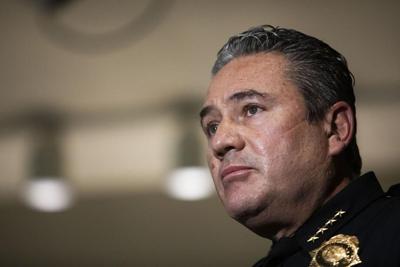 Denver Police chief Paul Pazen speaks about the cross-town shooting spree that left five people dead the previous night during a press conference at the Lakewood Police Department on Tuesday, Dec. 28, 2021, in Lakewood, Colo. (Timothy Hurst/The Gazette)
As Colorado endures a statewide spike in crime — including violence, murders and property crimes — The Gazette's editorial board met recently with Denver Police Chief Paul Pazen by Zoom to learn about this trend from his perspective.
Gazette: Good morning, Chief. The editorial board shares a lot of citizens' concerns about rising crime throughout the state of Colorado and, yes, nationwide. Let's begin by discussing this Reimagine Policing panel. … Did the panel propose some things that are problematic?
Chief Paul Pazen: There were 117 recommendations that the Reimagine Committee had. Many of those had nothing to do with law enforcement, and some are beyond even the city's scope. So, for example, the committee wants safe injection sites or safe-use sites (for illicit drugs). And that's, you know, beyond our scope as just one example. … What I can say is that there are recommendations that make sense, many of which we had already accomplished.
Gazette: It is our sense that the panel became politicized.
Pazen: I think that's exactly what occurred. There was an initial meeting that brought folks together. There were requests to have police voices at the table. Those police voices, those public safety voices were silenced in many cases, even embarrassed by the panel. I don't believe that this committee is as inclusive as they claim to be. I think there are many organizations that joined those initial meetings and then quickly realized what this was and backed away from the table because they realized that there would be little progress there … at the heart of this, it is a defund and abolish group that has created a platform.
Gazette: We've a spate of recent tragedies involving kids with guns. Why do kids have guns? Are the laws against minors possessing handguns enforced? There's the new element of ghost guns. Your thoughts?
Pazen: This is a complex issue. I don't want to exclusively point to juveniles with guns. Illegal guns are the issue, and it's very important that we talk about illegal guns versus guns themselves, It's about guns in the right hands and guns in the wrong hands. Felons are not supposed to possess firearms. Juveniles are not allowed to possess firearms. So first and foremost, we believe in responsible gun ownership. I am a gun owner. There are many people across our country that are gun owners, and we ask all of them to be responsible. That is critical. We do have a lot of stolen guns out on the street. Whether these are ghost guns (serial numbers ground off) or guns left in cars and the car is broken into. And now you have an illegal gun because it was taken in a crime out on our streets. So that is a challenge. Now exacerbating this challenge is ineffective prosecution, ineffective adjudication of these cases.
Our department has never taken more illegal guns off the street than we did in 2021. I thought 2019 was going to be our high watermark for illegal guns. We had 1,574 guns.
We took 2,095 guns off the street (in 2021), so we exceeded that by five hundred more. We're seeing all these illegal guns in the hands of felons and juveniles that aren't supposed to possess them. So, we pulled our arrest records and 732 of the individuals arrested for possession of a weapon were previous offenders, a felon with a gun. In these arrests, 32% of the suspects had been released on a PR (personal reconnaissance) bond.
Gazette: A third of the time?
Pazen: More than a third of the time the person was released just on a PR bond, somebody that was a previous offender. At least 20 more times the person got a $10 bond, $100 or $200 bond.
Gazette: These include people with serious felonies that involve injury to others?
Pazen: Yes. In our infinite wisdom as a state, we passed a bill last year that kicks in on March 1 that is going to take away more of these qualifying felonies and allow more people arrested on illegal possession of a gun to go free. We're talking all drug felonies, all theft and fraud felonies except for burglary, all arson felonies. Kidnapping offenses like false imprisonment won't count anymore.  Possession of a weapon on school grounds won't count anymore for keeping someone in jail. Large capacity magazines that exceed the state law won't count anymore.
Gazette: Which bill was this?
Pazen: (Senate Bill) 271. It was signed into law last year, on July 6. It goes into effect March 1. So, we already have a 50% increase in shootings in our city. We already have more felons that we've been arresting with guns, more felons that we are seeing and utilizing weapons on our streets involved in these shootings, in these homicides. And now we are changing the law to release more felons (caught with illegal guns).
We are doing this at the worst time possible — at a time we're seeing gun violence at levels we haven't seen since 1981. … Our shootings are up 50% again over our three-year baseline. And come March 1, we're going to have one less substantial tool to address felons in possession of firearms.
Gazette: Tell us how this works after March 1?
Pazen: Let's say Paul was convicted of false imprisonment and kidnapping. Let's say Paul had a kidnapping offense a year ago. A jury convicts me of kidnapping. Now, let's say Paul is out today running around in the 1,300 block of Cherokee and in possession of a firearm. Before this bill goes into effect, Paul can be charged with possession of a weapon by a previous offender — a felon with a gun. After this, for somebody with these very significant charges that initial qualifying felony won't count. It won't allow us to hold somebody with a conviction for kidnapping as having a predicate offense to get that illegal gun off the street.
Gazette: Let's talk about ineffective prosecution. You have talked with us before about some of what's transpired in the Denver DA's office, the way it executes its duties and what impact this has had. Could you elaborate? Update us, specifically with respect to PR bonds.
Pazen: Most people would agree that violent and repeat offenders should not be immediately released from jail. Violent and repeat offenders are harm to our community. It means 50% increases in shootings and homicides, 25% increases in robberies, 30% increases in burglaries and a 99% increase in auto theft. Auto thefts have doubled on top of a record year before.
Gazette: We lead the nation in auto thefts, correct?
Pazen: Yes. We are the worst state in the country for auto theft. … Our police officers have increased arrests in auto theft. I told you about the increase in guns and taking illegal guns off the street. Yet our shootings and our homicides with guns are going up. Same thing with auto theft. We've arrested 24% more suspects for stolen cars. We arrested one person six times in 2020 for auto theft. I mean, it just blows my mind. Are we going to get serious on the seventh one? Is that when we start prosecuting people and holding them accountable, after a seventh offense? How many repeat offenses does it take?
Gazette: Why was that person out back on the streets? You know, connect the dots just to make sure we're on the same page.
Pazen: Well, so some of these first arrests, the person is given a $5,000 PR bond. So please explain to me what a $5,000 PR bond is? It's a PR bond that they just attach an amount to. It never has to be paid You sign out on it and supposedly the next time you're arrested, we're going to impose the $5,000.
Gazette: And you don't have a bail bondsman chasing you down, or anything like that?
Pazen: No, you just sign it and promise to comply.
Gazette: It sounds like eyewash.
Pazen: Yes, it's a scam. It's a total scam. We have plenty of bonds where they assign $1 or $2. The judge will say, OK, you get a $1 bond or you get a $2 bond. They categorize that as a monetary bond, right? Or they say, well, a PR bond of $5,000, $1,000 or $10,000. And then what happens is people will be arrested, then they'll merge all the cases together into a single case and then they'll just file the one case with little to no consequences. We have individuals who have been arrested six times and it's the same story. You arrest someone for his sixth vehicle theft, he gets a PR bond of $8,000, and then you arrest him again 18 days later. He gets another PR bond with $2,000 listed, then seven days later he's arrested and gets another PR bond for $2,000. His one original cast bond was $1. They can be arrested again and again and again and get a $1 cash bond or a meaningless PR bond.
Gazette: Is this the bond requested by the DA's office or is this something that is approved by the judge?
Pazen: It's a combination. In some cases, the DA argues for bonds. In other cases, they don't. There's some assessment that takes place. Sometimes the judge, sometimes the prosecutors are adequately arguing for a meaningful bond and the judge goes in a different direction. Everything is about holding law enforcement accountable. We have a public-facing dashboard. We have an open-data catalog of all of our crimes. We release information any time that an officer is disciplined. We have mandatory body cam releases. Everything is about transparency and accountability for us. Yet, when I tried to figure out what's going on with these felons with gun cases, I had to reverse engineer. I requested this data from the courts, and you can't get it. So, I had to assign two lieutenants for two weeks to go name by name by name, hitting two different databases to figure out what's going on. So, one problem is a lack of transparency and accountability from the people that are making these decisions. … Good luck. If you want to discover which judges are giving $1 cash bonds and PR bonds without any teeth to them. Good luck. There is no transparency and accountability. Who holds these people accountable? Cops can be held personally accountable for mistakes now, but who holds accountable a prosecutor doesn't adequately manage a case and a 32-year-old mother is shot and killed by somebody out for three separate armed robberies in three separate counties?
The individuals that are committing crimes are not being held accountable. You shouldn't be arrested six times for stealing cars in one calendar year with other arrests on top of that and you're walking free. The criminal justice system doesn't exist to see how quickly we can get people out of jail. The criminal justice system exists to keep people safe, and we've lost sight of community safety. How long are we going to go down this road?
Gazette: It sounds like it's a system of catch and release. What is motivating that?
Pazen: Some of it is state law. So, I would encourage anybody to really dig into auto theft, right? Colorado is number one in the country for auto theft, and not that long ago we were slightly below the national average. So that points to law changes, policy changes around this crime. And from my perspective, auto theft is not the first crime you think about when you're talking about violence. However, it truly is that canary in the coal mine, because when people talk about auto theft, they're like, 'oh, well, you know, it's just joyriding or they're stealing cars so they can part them out.' Now these stolen cars are being used to commit additional crimes like burglaries, robberies and shootings. Talk to any one of the chiefs or any one of the people that are actually doing the work in the metro area about auto theft. A stolen car is not usually 'I'm going to take this car and get from point A to point B.' Criminals utilize stolen cars to further additional crimes.
Gazette: So, what changes in state law may have led to undue leniency in bonding these auto theft suspects?
Pazen: It's this declassification that takes place that lowers the classification of the type of felony or the accountability that somebody can have.
Gazette: Was auto theft declassified?
Pazen: Correct. And then you see this increase in crime starting there. We should not be leading the country in auto deaths. It points directly to the lack of consequences and accountability. It's not Rocky Mountain spring water that causes us to steal cars. It's not our proximity to the sun. This is about a lack of accountability and consequences. It's state policy decisions. With a 24% increase in arrestees, these crimes should be going down. But, when you're arresting the same person four times, five times, six times, eight times and they're still getting PR bonds … this problem is going to continue.'
Gazette: Isn't this based on a lot of concern about too many arrests of people of color?
Pazen: What's often is missing at the legislative level is any concern for the victims of crimes. Auto theft. We think it's not that big of a deal, but it is a big deal. Think of our marginalized communities, communities of color. That might be the only vehicle a family has. That might be the only way to get the kids to school, to get to a job, to get to the grocery store and that vehicle is gone.
I know this to be true. I'm a Latino who grew up with a single mom in North Denver. We were burglarized three times and it set us back significantly. The school told my mother I needed to play a musical instrument because it would help me with math. My mom scraped everything together to rent an instrument. It was stolen in a burglary. Do you know how many years we paid for a rented instrument that we did not have?
Gazette: As a parent of teenagers, I know a lot of other parents who are equally frightened by our soaring fentanyl death rate in Colorado. We keep hearing reports that Union Station is becoming a frightening place and a hub for the importation of products containing fentanyl.
Pazen: I was at Union Station yesterday. I was at Union Station on Monday. I went to Union Station on Sunday. I generally go every day that I work and sometimes days that I don't work just to see what's going on. Fentanyl is causing the loss of life throughout our community and certainly across the state. There was a time when fentanyl, methamphetamine, cocaine and heroin were demonized. Then we changed the law to say anything under four grams is a misdemeanor. Fentanyl is measured in micrograms. If you have one microgram too much, you may not be with us. Moving forward, it's that deadly of a substance. It's the deadliest drug we've encountered. It's a change in state statute that began in May of 2020. And again, since then we have seen a rise in overdose deaths. Right here is where folks have great intentions. Well, let's not put a felony on somebody that's using or possessing drugs. A felony can have long-term ramifications with getting jobs and breaking through a variety of barriers. That was well-intended, but people are dying. Let's say before 2020, Paul is in possession of three grams of fentanyl — enough to kill every person in this meeting and everybody on this floor that I'm working on. In 2019, we would contact this person and say, 'Hey Paul, you can go to jail, or we can take you to LEAD (Law Enforcement Assisted Diversion program) and get you to a case manager and they can start working with you to get the help that you need? Nine times out of 10, Paul is going to say, 'hey, let me try this LEAD thing.'
I don't have to go to jail. No, we can hold this in abeyance over here. We won't even file the case unless you stumble. So, Paul's getting the help that he needs through the Empowerment Program through LEAD. Now, let's say Paul's doesn't want to do that and says 'send me to jail.' We have medical-assisted treatment. We have clinicians that help people in jail. Either door Paul chose, Paul was getting the help he needed for substance abuse disorder. Then we changed the law to where this is a misdemeanor. Now we go out there and the drug dealers know that they can skirt the law entirely. Paul knows there are no consequences other than getting a ticket.
When the system is kicking felons with guns out on PR bonds, what are they going to do with a misdemeanor drug case? Paul gets a ticket and maybe Paul is still alive by the time the court date comes up. What we are seeing is more and more people are overdosing and dying because of this.
Gazette: And that change was made in the law in 2019 before the summer of unrest provided them a pretext. Where are these drugs coming from and how are they getting into our community?
Pazen: The fentanyl is primarily manufactured in China, in concentrated forms. And then we are seeing it placed into what they call baby blue pills. That's how fentanyl is being distributed in. The concentrate is made in China and then turned into blue pills in Mexico. We have taken a record number of fentanyl pills off the street. Our task force just took one hundred and ten thousand pills. Our District 14 just took another 10,000 pills off the street.
Gazette: Can Union Station become a safe, family-friendly environment like it used to be?
Pazen: We're going to make progress at Union Station, but that's just going to push it into River North. It's just going to push it into the ballpark neighborhood and folks are going to be saying, 'hey, it's a lawless hellhole over here.' That's because we have fewer laws and less law enforcement. What do we think is going to happen?
Gazette: We hear about a massive bicycle thievery ring with direct ties to Mexico. Some of these bicycles today cost $8,000, $10,000, $12,000 and up.
Pazen: Bike theft is a huge issue, and it's going to sound like the same old song. There's a lack of accountability and consequences when we arrest individuals for these high-end bike thefts.
Gazette: So, do you think changes in policy this legislative session could help with all of this?
Pazen: Recent reforms are primarily responsible for the spike in violent crime. We need to reexamine them.
Gazette: Chief, we believe the removal of officers from schools was a mistake. Can you give us your thoughts on that?
Pazen: Of the officers that were assigned to the schools. 17 of the 18 were persons of color. Many of the officers attended the same school they were working in, which was quite remarkable. Basically, kids from the neighborhood grew up, got into law enforcement and then chose to give back to the same high school that they attended, which I thought was very special. I think there was a mischaracterization of what that relationship with the young people looked like. If you talk to principals, the vast majority will prefer to have their school resource officers back because they were great partners in helping kids. And it was also a great way to recruit future officers, particularly from marginalized communities. I graduated from Denver North High School. We want more officers from the communities they serve, and our school resource officers were some of our best ambassadors for future police officers.
Gazette: You have described a depressing and troublesome trend of more crime, less law enforcement. Is the public starting to see this?
Pazen: The criminal justice system exists to keep people safe. And when I talk to people, they don't feel safe. How can you feel safe when you know your car is being stolen? How can you be safe when you're hearing gunshots? How can you be safe when 33 people are dead in our city because the suspect was under some form of supervision and not behind bars? Thirty-three times in our city the person was under probation or under supervision, parole or probation, or pretrial supervision. If they are in jail, they're not committing that crime. But we continue to lessen the consequence.  We had the bus drivers' union say Union Station is a lawless hellhole. Well, what do we think happens when we lessen the consequences for drug distribution? I'm just baffled that we didn't see this coming a mile away.
Gazette: Chief Pazen, thank you for your time, insights and service to the public.