New report shows Colorado's startling spike in crime
The numbers speak loudly enough: The average monthly crime rate in Colorado is 15% higher this year than in 2019, and a stunning 28% higher than it was a decade ago.
The violent crime rate spiked 35% over the figure from 2011. Nationally, the increase was just 3%, according to a report released Thursday.
The Common Sense Institute, the business-oriented Denver think tank, collected sometimes hard-to-obtain data, according to the authors, on arrests and other police reports. The report, titled "The Colorado Crime Wave: An Economic Analysis of Crime and the Need for Data Driven Solutions,"  follows the numbers of government investment.
Last year, Colorado led the nation in its rate of auto thefts, the numbers indicated.
The research was led by two well-known former Colorado district attorneys, Republican George Brauchler, who prosecuted cases in southwest metro Denver area, and Democrat Mitch Morrissey, the former Denver DA. Both were term-limited out of office — Brauchler last year and Morrissey in 2016 — and became criminal justice fellows for the Common Sense Institute in September.
The pair worked with Chris Brown, the vice president of research at the institute, who normally crunches data on taxing and spending.
Rising crime has a high price tag, the research shows: $27 billion in total, an amount equal to 77% of the state budget, which works out to an average cost of $4,762 a year for every Coloradan.
"There is a cost to this that is damaging to communities, that is damaging individuals, for businesses in the future for our state economy mainly. And so absolutely this is a business issue," Brown said in a Zoom call with Morrissey and Colorado Politics on Wednesday.
The report also notes:
70% of people arrested in Denver this year had prior arrests
30% of those had five or more priors, 54% had multiple charges in the same year
Use of personal recognizance bonds increased by 61% in the last three years
Use of $1 and $2 bonds increased 1,879% in the last three years
Since 2008, prison population decreased 23% (about 8,000 inmates)  crime rates have increased 47% (or about 131,399 crimes annually)
Retail and motor vehicle thefts contributed cost between $1.2 and $1.6 billion, with each stolen vehicle averaging more than $36,000
Colorado is in the top five states for its rate of recidivism
The state saw the highest increase in the country in its property crime rate between 2011 and 2020
The full report is available by clicking here.
In an interview Wednesday, Morrissey said the report takes stock of the criminal justice, bond and parole reforms that have loosened the jailhouse doors too much over the last decade. The numbers speak to the current outcome and the report calls for a response to address rising crime.
"I think that it's a wake-up call to the citizens," he said.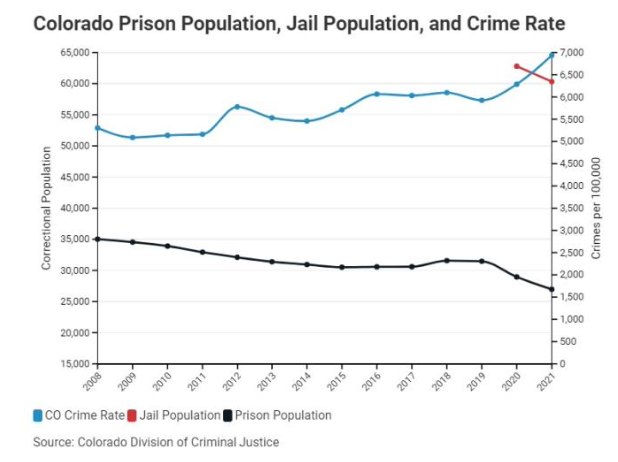 The assumption that the numbers are tied to economic fallout of the pandemic isn't supported by the data, Morrissey said.
"I was startled by the numbers," he said. "Yeah. I knew there was an increase on the rise when I was leaving the office in 2017, nearly five years ago… that we were seeing an increase in homicides and some of the violent crimes. I was also startled to see some of the things that I felt were responsible for the increase in crime."
Morrissey said a "one-size-fits-all" way of setting bonds and releasing people early has gotten out of hand, and it's time to rebalance the scales. The result of putting more criminals on the street is more crime, he said.
"We'd have these guys that were begging to go back to the penitentiary, and then they'd have to murder somebody to get back," said the former Denver DA. "So yeah, the signs were there.
"That's why I think that this report is so important, because you can't write it off to the pandemic. These are trends that we've seen in our state now for a long time and to be No. 1 in certain crimes, it's just amazing to me.
Morrissey and Brown refuted notion that prisoners must be released to relieve overcrowding in state prisons.
The state's prison population peaked 12 years ago 23,000, and most years it averages about 20,000. Partly because of COVID-19, the prison population fell to 15,760 last year, but legislative budget analysts warned in the spring it might rebound to about 17,000 by the end of the year.
As of Wednesday, the state prison population was 14,471.
In 2018, the General Assembly heard projections that population could reach 25,000 by 2025, which prompted lawmakers to vote to reopen the decommissioned penitentiary at Centennial South in Cañon City to handle 632 offenders after closing of Cheyenne Mountain Re-entry Center in Colorado Springs.
Criminal justice and police reform have put statehouse Democrats at odds with law enforcement and prosecutors the last two sessions.
In July, Gov. Jared Polis signed six bills to change the way the state handles pre-trial detention, misdemeanors and second chances.
Rep. Serena Gonzales-Gutierrez, a Denver Democrat, said Democrats prioritized improving criminal justice and law enforcement system. She sponsored three of the bills Polis signed into law.
"The laws we created will help us improve police-community relations and ensure our misdemeanor sentencing and pre-trial detention systems are more efficient and more fair for Coloradans," she said. "I'm proud of the work we did to advance the cause of justice."
The Democratic-led General Assembly rejected Senate Bill 273,  would have barred arrest for some low-level crimes — traffic offenses, pretty drug possession and a list of municipal violations — and instead have police officers and sheriff's deputies issue summonses, with exceptions for violence, guns and threats to schools or other institutions.
The bill died on a 6-5 vote in the House Finance Committee because two Democrats joined with the panel's the four Republicans on the panel to vote it down. One was reliable Democrat Matt Gray of Broomfield, who is a former prosecutor.
"This is a bill about whether we put people in custody just because they can't afford to be out," Rep. Adrienne Benavidez, a Democrat from Adams County told the committee. She said two people who commit the same low-level crime, the one with money to pay the bond gets out and the one who doesn't sits in jail.
"That's the system we've created," she continued. "Spending time in jail, even for a few days, impacts so much of individual's lives," including potentially losing their job, where they live or their children.
Fifteen of the state's 22 district attorneys opposed the bill, along with law enforcement.
Polis, however, signed Senate Bill 71 that would make it harder to lock up and set bond on juveniles who commit "a delinquent act."
The bill's aim was to reduce the juvenile detention bed cap from 327 to 215 that could be held at any one time.
Rep. Jennifer Bacon, another Denver Democrat, sponsored House Bill 1214 to make it easier for people to seal their arrest record. She cited a University of Maryland study.
"Nearly half of Black men and almost 40 percent of white males are arrested by the time they are 23 years old," Bacon said. "An arrest record, even in instances when a charge was never brought, can hamper a person in devastating ways for the rest of their lives."
Brown and Morrissey said a response to the high crime is to invest stimulus dollars now into prevention programs, rather than continuing to turn loose potentially dangerous or larcenous people.
The governor's office agreed Wednesday and pointed to the investment Polis has called for in next year's state budget:
$16.6 million to increase the public safety workforce with more access to mental health services, training and recruiting, as well as diversity to ensure officers reflect the communities they serve
$35.9 million in community public safety investments such as better street lighting, support for community watch programs and school safety programs, including improved mental health infrastructure
$6 million for initiatives to prevent or respond to domestic violence
$47.9 million for behavioral health workforce and programs, such as criminal deterrence efforts for at-risk people, including more beds at the Colorado Mental Health Institute at Fort Logan
$7.1 million for recidivism reduction
$6.8 million to ost the capabilities of the state forensics lab to better support local law enforcement
By Joey Bunch joey.bunch@coloradopolitics.com
Reprinted from New report shows Colorado's startling spike in crime | News | denvergazette.com