EDITORIAL: Cops can't afford to blink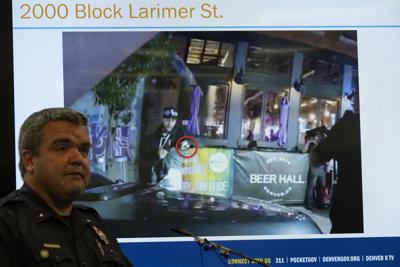 Denver Police Department commander Matt Clark, with the Major Crimes Department, speaks to media with a still frame taken from police body camera footage of suspect Jordan Waddy allegedly brandishing a firearm before being shot by police in an incident in LoDo last Sunday night, as seen during press conference about three recent police involved shootings on Wednesday, July 20, 2022, in Denver, Colo. (The Denver Gazette)
Police are trained to prepare for a split-second, life-or-death decision: if, and when, to pull the trigger.
It's the kind of decision no one has to make in any other line of work outside the military. And it's the kind of decision some Denver cops had to make in lower downtown early Sunday morning when a man confronted them with a gun outside a bar amid droves of LoDo revelers.
Police patrolling the area observed the man involved in an altercation and approached the scene. They said the suspect, Jordan Tyler Trey Waddy of Denver, then brandished a fully-loaded and cocked 10 mm semi-automatic handgun and pointed it at two of the officers.
In the melee that followed, three police fired seven rounds at him. Waddy was hit — as were six innocent bystanders. It all had transpired in a matter of seconds.
All six passersby who sustained varying degrees of injuries have since been released from the hospital. Our hopes and prayers are with them as they recover from the pain and trauma they endured, and we empathize with their worried loved ones, who had rushed to the hospital as soon they'd learned of the incident.
Waddy, who has a troubling criminal record, was still was hospitalized as of Thursday. He was arrested on suspicion of menacing and possession of a weapon by a prior offender. He was on probation for felony aggravated assault convictions.
As reported in The Gazette's extensive follow-up coverage this week, Denver police leadership has been piecing together the blow-by-blow of what happened. Meanwhile, the officers who fired their weapons have been placed on administrative leave per standard procedure.
What already seems clear from police statements in an extensive news conference Wednesday is that the officers involved had few if any options. The suspect had disregarded their orders to stop and show his hands after they attempted to intervene in the initial fight.
"He was now feverishly trying to remove something from his hoody jacket pocket, or front pocket, with his left hand," Denver Police Commander Matt Clark recounted. "The subject eventually pulled out a handgun and held it in a manner that the muzzle of the gun was pointed in the direction of the officers."
What would have happened had police hesitated a moment longer? Might more bystanders have been wounded — even more seriously. Or, heaven forbid, lost their lives? Would police have been wounded or even killed?
"Certainly (the responding officers) didn't go in with the intention of injuring other people. They were trying to mitigate the threat, did the best they could initially to contact the subject in the street at a safe location," Clark said. "He certainly could have gone the other direction and fled, but he chose to stay in that area, pull a firearm out directly in front of the police officers."
The police investigation — of the criminal suspect as well as of police actions — continues. Denverites can be confident Chief Paul Pazen will ascertain whether all procedures were followed in this incident and will point out publicly if they weren't.
Pending that, let's remember that police are trained to act and to act swiftly — to head off worst-case scenarios if possible. It's a very tough spot to be in, yet police are sworn to serve in it. For the sake of public safety, they can't afford to blink.
Gazette editorial board
Jul 22, 2022
Reprinted from EDITORIAL: Cops can't afford to blink | Editorials | denvergazette.com