EDITORIAL: Colorado's crime fight isn't about 'deterrence'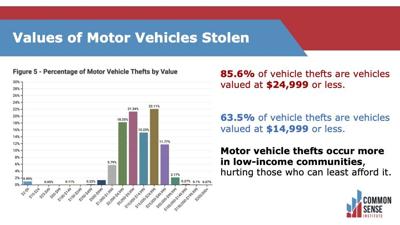 The value of cars being stolen in Denver. More than 85% of stolen cars are worth less than $25,000.
Submitted, Common Sense Institute
No crook can be in two places at once. A career car thief can't steal your wheels from your driveway tonight if he's still doing time for his last crime. An opioid peddler won't be able to poison your son or daughter if he's in the slammer for a prior drug deal. Nor can a seasoned, smash-and-grab "shoplifter" ply his trade from behind bars.
It all seems pretty obvious — except to the policy makers who have helped usher in Colorado's crippling crime wave over the past several years with their reckless "justice reform" agenda.
Their cavalier attempts to reinvent law and order have lowered and, in some cases, gutted penalties for convicts and have made it more difficult for law enforcement to hold suspects. The net effect is revolving-door justice — and more seasoned criminals on our streets.
As Colorado's crime rate has soared, the justice reformers have come up with a ludicrous yet oddly effective distraction in an attempt to dodge blame — claiming that locking up criminals doesn't deter crime. It's a sly diversion that even draws justice reform's critics at times into a meaningless debate over whether a lengthier prison sentence here, or a tougher standard for bail there, can dissuade the next potential perpetrator.
It's all a ruse — a talking point ginned up by justice reformers to change the subject anytime the public starts to demand answers for skyrocketing crime.
In reality, deterrence is beside the point. Locking up bad guys isn't about sending a message. It's about getting and keeping offenders off the street so they can't offend again.
Hardened criminals with lengthy rap sheets are causing much of Colorado's current mayhem. They are free to wreak their havoc because they keep getting out of jail or never go there in the first place.
In a recent commentary in The Gazette, former Denver District Attorney Mitch Morrissey quotes the chief of the Colorado Auto Theft Prevention Authority as saying, "97% of the people who have been arrested in the last three years for auto theft have multiple arrests for auto theft."
Is it any surprise Colorado leads the nation in auto theft?
Similarly, an investigative report by The Gazette earlier this year found that of the 92 homicides resulting in an arrest in Denver from January 2020 through last Nov. 20, at least 42 of the suspects were prior offenders who had been on parole, in a halfway house, on probation, out on bail or had fled supervision and were at large.
At root is a lax justice system — a lenient parole board, judges and even DA's in some jurisdictions. Above all, state law has been softened by the legislature to lower penalties.
The deterrence deception came up again just this week when the city council in Colorado's third-largest city sensibly and commendably voted to require minimum jail sentences of three days for people convicted of stealing $300 or more worth of retail goods.
The Aurora City Council's crackdown is overdue. But it came over the objections of a few holdout council members who have bought into the justice-reform claptrap. As reported by The Gazette on Tuesday, they contended jailing thieves won't deter theft.
Want to bet those thieves won't steal while they're locked up?
Someone needs to explain to those out-of-touch council members that the new law isn't aimed at the next thief. It's aimed at the one who already has been caught — yet is out on the street and will steal again.
Reprinted from EDITORIAL: Colorado's crime fight isn't about 'deterrence' | Editorials | denvergazette.com