Denver police launch fentanyl task force in response to…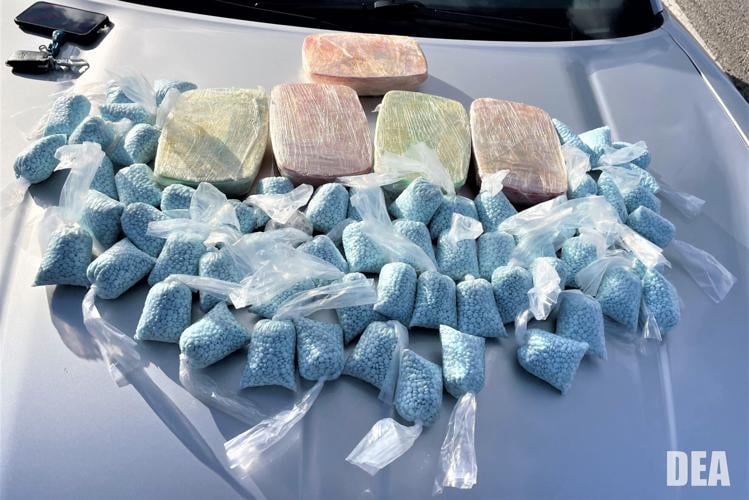 This photo shows bags of pills containing fentanyl seized by the Drug Enforcement Administration.  The agency seized more than 5.8 million possibly deadly doses of the drug in its Rocky Mountain region in 2022.  COURTESY OF THE U.S. DRUG ENFORCEMENT ADMINISTRATION
Fentanyl — the new boss drug — is a lot different from the old lords of methamphetamines, crack cocaine or even "regular" opioids.
And marijuana is so 2012.
This week, the Denver Police Department repurposed its Marijuana Task Force with a new unit to hone in on fentanyl abuse. The Fentanyl Investigations Unit (FIT) is comprised of six officers dedicated to holding dealers accountable.
The change came about because fentanyl use is exploding, while the number of marijuana complaints handled by the Vice and Narcotics Section's Centralized Marijuana unit has dropped significantly from 99 in 2020 to just 27 last year.
"Fentanyl was pushing everything else out, so we had general conversations and we pitched the idea to the chief and he immediately said yes," said Lt. Aaron Rebeterano, who is in charge of the newly-launched unit.
Drug dealers are flooding the Denver market with illicit fentanyl at cheaper prices. Used legitimately as a medical anesthetic, fentanyl is a synthetic opioid that became the dominant player in the illicit market, and it's increasingly being mixed into other substances. It's cheaper and produces a stronger, more fleeting and deadlier "high," according to experts.
"One of the last undercover deals we did was a buy for 1,000 pills and they charged us $1.50 a pill," said Rebeterano. "But you have to buy in bulk to get that price."
The average street cost of a fentanyl pill usually goes for around $4, but dealers don't usually have change, so people are often paying $5 apiece, Rebeterano said. Five dollars could be lunch money for school kids.
"It's terrifying," he said. "We are doing this because we don't want fentanyl getting into the hands of unsuspecting people and especially children."
The latest numbers from the Denver Medical Examiner's office indicate that at least 219 people died of fentanyl-involved poisonings in 2022, which was over half of the overall number of the city's 424 total drug overdose deaths.
In 2021, 239 people in Denver died from fentanyl-involved overdoses. This was a significant increase from 2020, when 161 people died of fentanyl-involved poisonings.
The death rates illustrate the meteoric rise of Denver's fentanyl crisis since 2018 when 17 people died of fentanyl-involved poisonings the entire year.
The 219 death count for 2022 will likely increase as final fentanyl overdose numbers for last year won't surface until April because of the lag in registration and processing of death certificates.
Besides the deaths from fentanyl overdoses, the amount of fentanyl the Denver Police department has taken in from drug busts is rising astronomically. Fentanyl seizures in 2022 were up 121% from the year before and 2021's numbers were up over 400% from the year before that. In all, Denver Police reported that  investigators have recovered over 200 pounds of fentanyl between 2020 and 2022.
But why dedicate a unit solely to fentanyl, when other drugs like methamphetamine are also rampant?
It's a question some who work in the field of drug addiction are asking — especially when cartels are known to adapt to the rapidly evolving opioid market.
"Politically, fentanyl is getting a lot of attention but workers in the field are seeing new drugs," said Jose' Esquibel, director of the Colorado Consortium for Prescription Drug Abuse Prevention. "The only thing to watch for is will fentanyl fade away and if it does, will the cartels present another product and back away from fentanyl like they did with heroin to introduce the next product."
Rebeterano remembers when people started turning to fentanyl instead of doing heroin because fentanyl was so much cheaper. He said that meth is still a prevalent problem, but "we are not seeing the deaths associated with it."
He added Denver has major narcotics teams dedicated to policing other drugs.
And there are newer, more potent, ways to get high which, Esquibel said, "are just around the corner.'
One of the newest and scariest drugs investigators are just now seeing is an animal tranquilizer called Xylazine, which is actually being used to bulk up the high from opioids, such as fentanyl. Xylazine is most prevalent on the East Coast, but Esquibel said "the zombie drug"or "tranq" is on his Colorado radar — as are Nitazines, known as Frankenstein opioids and are up to 40 times stronger than fentanyl.
Rebeterano remembers when fentanyl was the newest drug of choice. He and several other undercover narcotics officers would stroll Denver's District 6 to monitor drug use.
"We would walk around and they'd be in the dark places of Union Station lighting up their pipes and smoking on foil in front of everybody," he said.
He won't get fooled again, he said, adding, "It exploded on the scene. I don't know that anybody could have predicted that this would happen."
By CAROL MCKINLEY Carol.mckinley@gazette.com
Denver Enterprise Reporter

Reprinted from Denver police launch fentanyl task force in response to epidemic | Fentanyl Coverage | denvergazette.com