Denver Police Department holds annual backpack giveaway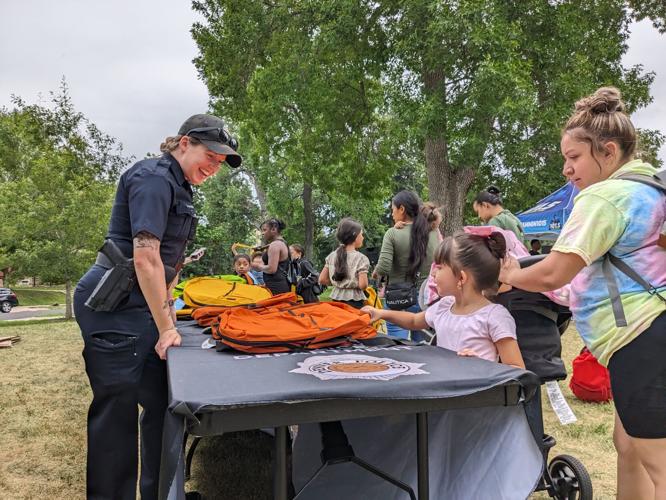 Officer Amanda Grodman gives away supplies and a smile. Sage Kelley sage.kelley@denvergazette.com
Despite overhanging clouds and a threat of storms, families lined up at multiple locations across the city for the Denver Police Department's back-to-school event.
"We had a big ol' line out here this morning," DPD's Amanda Grodman said. "It was an amazing turnout."
DPD, Denver Police Foundation and Kroenke Sports Charities partnered together at five locations. It was the eighth year the department collaborated with community partners to distribute free supplies. It was the fourth year that the trio boosted the giveaway with the caravan event.
Police and volunteers handed out 2,500 backpacks and supplies included on DPS's supply lists including pencils, notebooks, paper, markers and binders.
The events were held at West Warren Avenue, Skyland Park, Highland Park, Kennedy Baseball Field and Lincoln Tech.
The caravan included DPD show cars, mounted police and Kroenke Sports mascots, including the Denver Nuggets mascot, Rocky.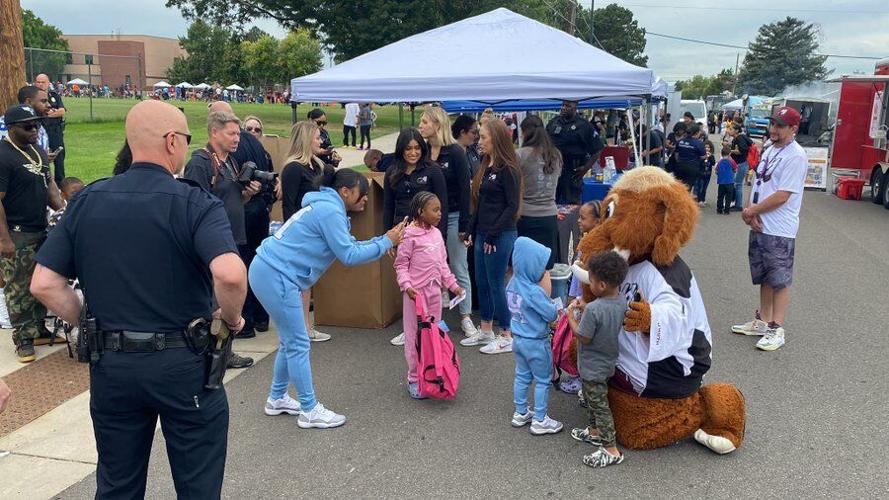 Children meet with Wooly, mascot of the Colorado Mammoth Pro Lacrosse Team Denver Police Department
"This is our favorite thing to do," Grodman said. "Meeting with the families and children and giving back — that's what it's all about."
Along with supporting the community and education of citizens, the DPD looks to build a bond of trust for the future.
"It's about having those positive interactions, especially with the youth," Grodman said. "It's just so important for them to get to see that we can be helpers… So it's just really fun and important."
"The Denver Police Department takes great joy in partnering with the Denver Police Foundation and Kroenke Sports to buy, fill and distribute the school supplies and backpacks knowing it makes a true difference in our community," said Denver Police Chief Ron Thomas in a press release.
Sage Kelley