Denver police chief says early release has contributed to…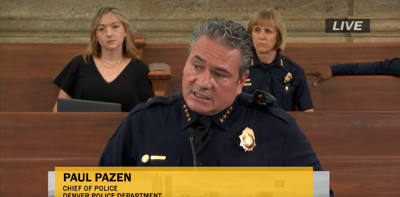 Denver Police Chief Paul Pazen gives a presentation to a City Council public safety working group on August 9, 2021 about the department's collaborative policing strategy announced in May.
via Zoom
Denver Police Chief Paul Pazen has said homicides and other violent crime rates are spiking in the city in part because too many violent criminals are being sent back out on the streets on pretrial release, probation and parole.
About 58% of solved homicides last year involved suspects with previous violent felony convictions, he said this month during a Denver City Council working group on public safety. Twenty-five were on some kind of court-mandated supervision. In 2021, eleven of 28 solved homicides at the time of the presentation involved suspects released on supervision.
"Thirty-six people could be alive today if other parts of criminal justice system were working as designed," he said.
He pointed to a handful of people who have been arrested several times for a particular type of offense. One woman has been arrested six times for auto theft. Another person has been arrested four times since May 6. Another has been arrested 29 times since 2010, most recently with a gun and four types of drugs.
Pazen said the people in three of the cases have received personal recognizance bonds.
People who have weapons illegally because of previous felony convictions are causing problems for police, Pazen said. The police department in July announced a partnership with the federal Bureau of Alcohol, Tobacco, Firearms and Explosives to target violent felons who carry guns.
"This partnership is to go after the worst of the worst. … This gives additional leverage and the full weight of the federal government to hold someone accountable for those crimes."
Pazen's comments mirror earlier statements by Mayor Michael Hancock and Director of Public Safety Murphy Robinson that too many people who commit serious crimes receive release on personal recognizance bonds.
"What we're finding is that sometimes some of these offenders get out of jail before we finish the paperwork. … Some of these offenders have multiple offenses doing the same exact thing but are being given PR bonds," Robinson said in a previous presentation to a City Council committee.
In an interview following his State of the City speech, Hancock didn't point a finger at any one agency for the problem, instead calling on the legislature to "correct" how the law dictates establishing bonds for release.
"I believe in law enforcement reform, I believe in judicial reform, but we cannot over-correct to where we are allowing violent criminals to come out and continue to re-offend without a system holding them accountable," he said.
But those tasked with examining ways to reform policing in Denver say they want a better understanding of available data and more input from stakeholders before they draw conclusions about what's driving the city's crime increases.
"One side wants to say the judge is letting people off. You need to hear from the judiciary as to their interpretation of that statement, and I would expect they would have a different take on things," said District 6 Councilmember Paul Kashmann, who leads City Council's public safety working group. He said he doesn't think a full picture of contributors to crime can be painted just from looking at one set of data, especially if agencies point fingers at each other.
"It's not the type of thing where we get one chart and it's like, 'Eureka, we've got the answer,'" Kashmann said. "If it were that simple, I'm sure this would have been solved a long time ago."
Pazen went to the working group on Aug. 9 to give details on a policing strategy the department announced in late May to target violent crime. One pillar of the strategy involves increased patrols in five "hot spots" police have identified centered on intersections across Denver.
According to data collected through Aug. 3, the police department has made some progress reducing incidents in the hot spots, Pazen said. At the time of the presentation no shootings have occurred this year at one of the spots that's mostly located in the Northeast Park Hill neighborhood, at Holly Street and Martin Luther King, Jr. Boulevard, he said.
But District 9 Councilmember Candi CdeBaca, also part of the public safety working group, pushed back on Pazen's use of that metric as an indicator the police department's collaborative policing strategy is working, since the city announced its launch in late May. She said it doesn't make sense to increase policing there when the problem hasn't continued into 2021.
"That is the antithesis of using data to inform your practice," she said in an interview.
The slice of data Pazen presented comes from a group of outlier situations informing policing practices, she added. In the working group meeting, CdeBaca said she has not seen data bearing out that low-level offenders who receive supervised release of some kind are responsible for current increases in crime.
The police department has said that in 2020, 49% of shootings and 26% of homicides happened in the five "hot spots" they identified, even though the areas made up only 1.56% of Denver's geographic area (excluding DIA).
The ACLU of Colorado has been working to gather data about reoffenses among people who receive supervised release, such as personal recognizance bonds or early release. Denise Maes, the public policy director, said the data she has seen so far doesn't appear to bear out that people receiving early release and subsequently committing serious crimes is a widespread problem.
"Individuals that are being released on PR bonds or even low-cash bonds are not the individuals that are going out and committing violent offenses. So that's the fear mongering piece that's just false," she said.
Kashmann said he plans to continue information gathering by hearing from stakeholders and looking at other practices around the U.S. He agreed reducing Denver's crime needs a more complex approach that tackles its root causes as opposed to the city only relying on arresting its way out of the problem.
"Once someone gets off the track to where the law doesn't mean anything to them, it's difficult to keep them under control. So I think it behooves us while we pay attention to law enforcement to also be looking at the root causes so we can nip this thing in the bud."
JuliaCardi julia.cardi@gazette.com
Aug 26, 2021
Reprinted from Denver police chief says early release has contributed to crime surge | Government | denvergazette.com