Denver officer saves baby who stopped breathing during National…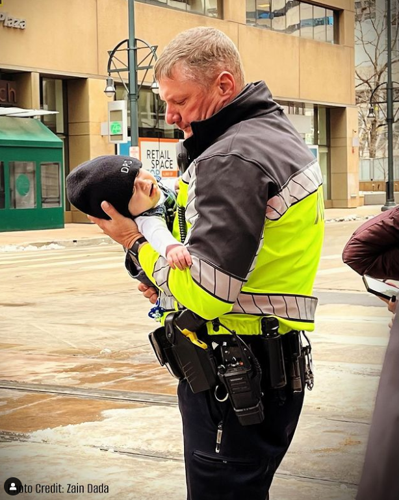 Denver Officer Brad Dore holds a baby who momentarily stopped breathing. Dore had rushed to the scene and applied first aid until the baby began to cry.
(PHOTO: Zain Dada)
Quick action by a Denver police officer saved the life of a baby who stopped breathing while attending the National Western Stock Show kick-off parade in downtown Denver on Thursday.
Denver police recounted the heart-stopping episode on the department's Instagram page Friday. According to the post, a man came running up to Officer Brad Dore and his partner to alert them that a baby was not breathing two blocks away. The officers were posted at 18th and Stout streets, monitoring the parade.
"Officer Dore sprang into action, immediately calling for emergency medical services and running to 17th and Stout Streets with the man, where a crowd was standing around the baby as a woman was holding it," the department said.
"Officer Dore noticed that the baby was not moving but was conscious. He took the baby from the woman and immediately began administering first aid," the police said. "He first turned the child over and began patting their back, then cleared their airway, and patted their back again until the baby began to cry."
The department said Dore, who is with the police's traffic operations unit, held onto the baby as the mom gathered herself. He also took his hat off and placed it on the baby to help keep the baby warm. When first responders from the Denver Fire arrived on the scene just minutes later, the baby was calm and breathing, the department said, adding Dore then handed the baby over to EMS personnel and returned to his post.
"To the @DenverPolice officer who ran to the rescue of a mother wailing in the streets of Downtown #Denver—you're a true #hero," Zain Dada, who took a photo of Dore in action, said on Twitter.
"We onlookers watched with tears in our eyes as an unconscious baby regained color in your arms. An example of a truly amazing police officer," Dada said.
By DENVER GAZETTE
Jan 6, 2023
Reprinted from Denver officer saves baby who stopped breathing during National Western Stock Show kick-off parade | Police & Public Safety | denvergazette.com