Annual ceremony honors Denver Police officers for 'maximum bravery'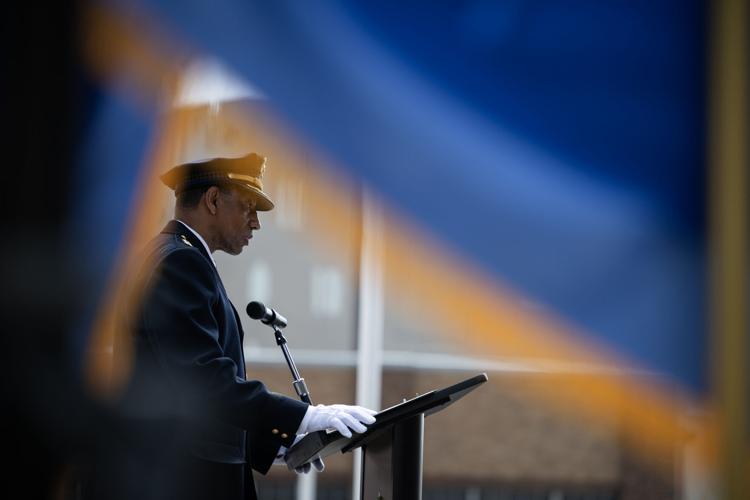 FILE PHOTO:  Denver chief of police Ron Thomas.
Timothy Hurst/Denver Gazette
Every year, the Denver Police Foundation recognizes what the city's police chief, Ron Thomas, called "maximum bravery behaviors" and "extreme dedication" among members of the police force.
The 2023 class of "Honoring our Heroes" award winners risked their lives to save and protect others, including their fellow officers, the foundation said, noting the recognition went to officers, both sworn and civilian, for acts of courage and service at the ceremony on Friday at the Hyatt Regency Denver at Colorado Convention Center.
Video presentations highlighted a few of the most stark instances of the officers navigating dangerous situations.
Thomas thanked the foundation, supporters and attendees. The awards speak to officers' "bravery, partnerships, training and innovation," he said.
"All of your donations have been put to great use," he said. "The investment has truly saved lives."
The event included a live auction, where attendees bid on field experiences, including going through the VirTra 300 shooting simulator used by the police department, an afternoon with the bomb squad, a ride in the department's Air1 helicopter, and a firearms training session. The event raised money for needs, such as night-vision goggles and bulletproof vests.
"I want to acknowledge to the families and friends of those who are being awarded tonight," Thomas said. " The beauty of this event is that it provides an opportunity for loved ones to also celebrate and be recognized along with their loved ones.
Denver Mayor Mike Johnston also thanked the officers and the foundation.
He pointed to the last line of the Declaration of Independence, which reads: "To protect this declaration, we mutually pledge to each other our lives, our fortunes and our sacred honor."
Johnston vowed to "serve with you should-to-shoulder on the toughest days ahead."
"This evening is about giving back to you who are doing the city's most important service," he said. "Thank you."
The Denver Gazette and The Anschutz Foundation were among the sponsors of the event. The Anschutz Corp. owns Clarity Media Group, the parent company of Colorado Politics and The Denver Gazette.
The 2023 Honoring our Heroes Award recipients are:
Sgt. Ethan Antonson Medal of Valor
Ana Babinec CSA of the Year
Officer Austin Barber Distinguished Service Cross
Officer William Bartz Purple Heart
Det. Matthew Baughman Medal of Valor
Officer Blake Bishop Distinguished Service Cross
Cpl. Marcus Black Medal of Valor and Purple Heart
Sgt. Jason Burton Distinguished Service Cross
Officer Shannon Davis Distinguished Service Cross
Officer Richard Eberharter Distinguished Service Cross
Officer Ronald Espinosa Distinguished Service Cross
Officer Heather Floyd Medal of Valor
Det. Phillip Gurule Distinguished Service Cross
Cpl. Christina King Distinguished Service Cross
Officer Joshua Koen Purple Heart
Department of Corrections Parole Officer Mark Kuchyt Medal of Valor
Cpl. Eric Leon Medal of Honor and Distinguished Service Cross
Officer Jared Lippert Officer of the Year
Cpl. Ismael Lopez Medal of Valor
Sgt. Brandon Reyes Medal of Honor, Medal of Valor and Purple Heart
Sgt. Raymond Sheridan Above and Beyond
Officer Jordan Smith Distinguished Service Cross
Officer Nathanial Trobee Distinguished Service Cross
Dennis Huspeni
dennis.huspeni@gazette.com
Oct 5, 2023
Reposted from Annual ceremony honors Denver Police officers | News | denvergazette.com