Amid rising crime, cycle of arrest, release and repeat…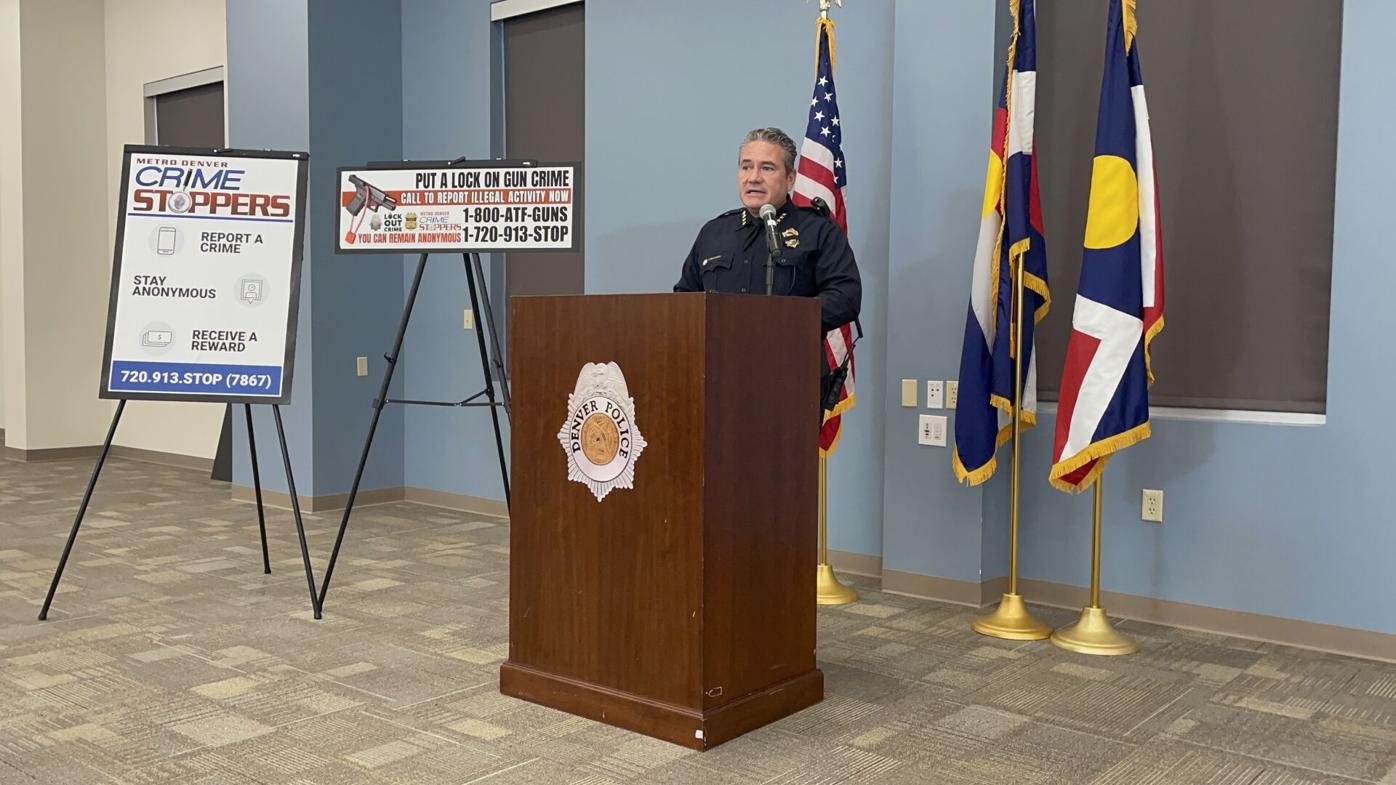 Denver Police Chief Paul Pazen announced a new partnership with the Bureau of Alcohol, Tobacco, Firearms and Explosives on July 28, 2021 to crack down on gun possession by people prohibited from having them because of previous felony convictions.
Julia Cardi/The Denver Gazette
y the time Denver police arrested Bradley Widick in late August with a stolen car and handgun after a chase, he had four previous felony convictions for vehicle theft, escape and assault. Police had issued four arrest affidavits for him since the beginning of 2020. 
In June, witnesses described him firing off shots around Bayaud Avenue and later around Clay Street, according to the arrest affidavit. At the time, Widick was on parole for second-degree assault, and simultaneously out on a personal recognizance bond facing four counts of possession of a weapon by a previous offender. 
Just a few days earlier, he had eluded police when they responded to a call of shots fired off in the same area of Bayaud Avenue.  
In connection with his August arrest, the Denver district attorney's office originally charged Widick with vehicle theft, eluding police and possession of a weapon by a previous offender. But federal authorities have since taken custody of Widick, and he now faces a federal felon-in-possession charge, which carries up to 10 years in prison. 
The cycle of arrest, release and repeat of offenders like Widick has frustrated Denver police, especially during a period of rising violent crime in the city. To target "the worst of the worst," as Police Chief Paul Pazen has put it, the department has strengthened its partnership with the Bureau of Alcohol, Tobacco, Firearms and Explosives for investigating instances of people with felony convictions possessing weapons illegally. The police department refers to these cases as possession of a weapon by a previous offender — POWPO — while the ATF refers to them as felon-in-possession cases. 
"The rate of shootings and homicides that we're having is through the roof. Literally, people are dying as a result of this. So something needs to change," Pazen said in a recent interview. 
Denver police made 415 POWPO arrests as of July 26 in 2021, according to data provided by the department. The three-year average for 2018 to 2020 between Jan. 1 and July 26 was 280. 
A cycle of defendants charged with serious crimes receiving low and no-cash bail or other lenient release terms has also frustrated Denver's law enforcement leaders. Pazen said of solved homicides in 2020 and so far in 2021, a combined 44 of the suspects committed them while on some type of court-ordered supervision, such as pretrial release, parole or probation.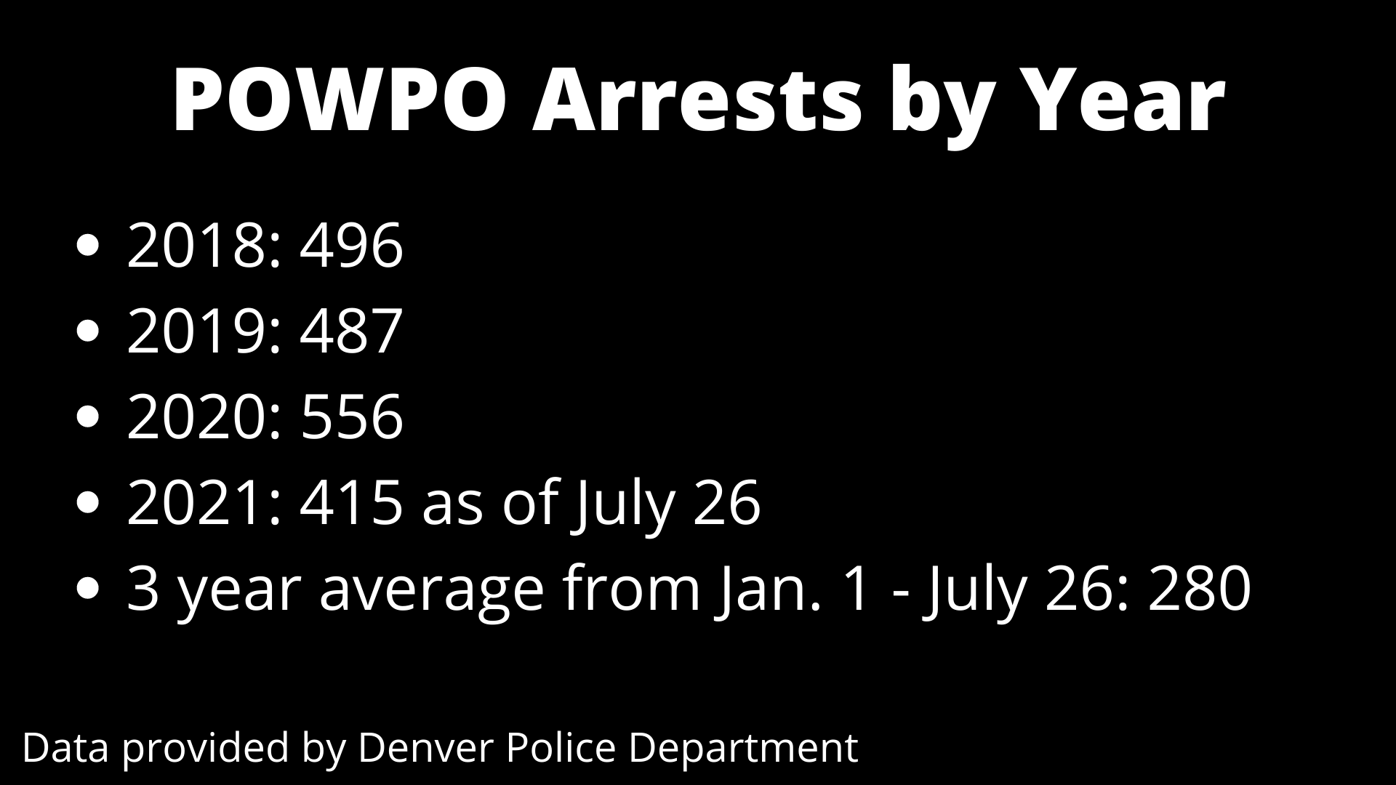 "One could argue that in the last 18, 19 months, 44 people would be alive today if this supervision was working as designed," Pazen said. 
He had his department delve into how arrests of people with previous convictions for illegal weapon possession have been handled in the court system before trials. Statistics produced by the department show of 432 POWPO arrests made in 2021 as of July 30, 38% of offenders received release on personal recognizance bonds and another 30 were given bonds under $500.  
"Felons with weapons being let out of jail like this is something that I have not seen before," Pazen said. The partnership between Denver police and the ATF is focusing on five "hot spots" Denver police have pinpointed as having a disproportionate share of the city's homicides and non-fatal shootings. In 2020, the areas immediately surrounding the five intersections accounted for 26% of Denver's homicides and 49% of shootings, police say, despite making up only about 1.5% of the city's geographic area.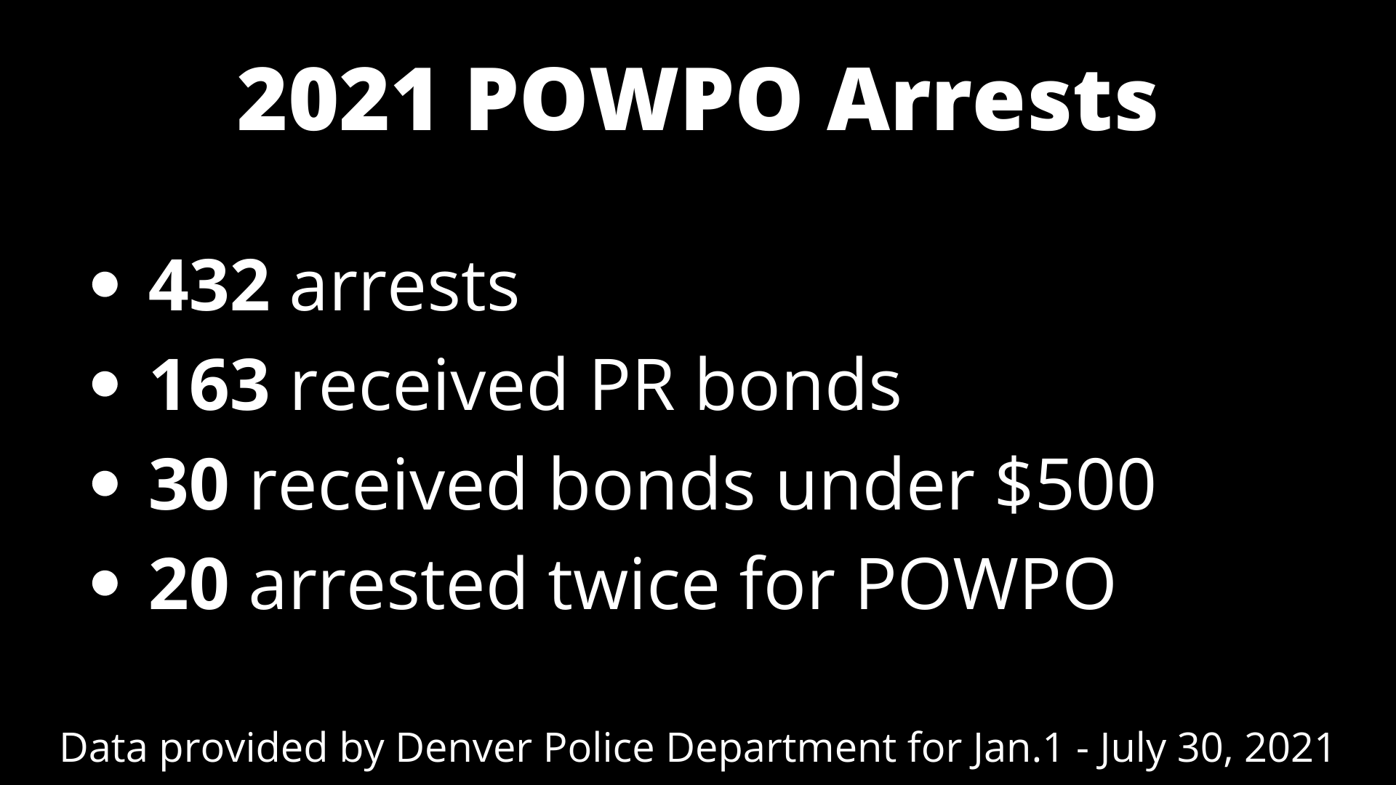 Collaboration between the ATF and Denver police isn't new. But the partnership streamlines the bureau's work with the DPD by pairing them up for on-scene investigations and evidence collection.  
David Booth, the special agent in charge of the ATF's Denver field division, estimated six to eight federal felon-in-possession cases have resulted from the targeted partnership. He said the ATF relies on police to be their eyes and ears for picking up on felon-in-possession crimes since they are the first responders.  
"It's really helpful to sit in the same room, because the Denver officer is going to hear about it before I'm going to hear about it," he said.  
A decision is made about whether to charge a defendant in state or federal court. The Department of Justice has a policy prohibiting prosecution for conduct that a person has already been prosecuted for in state court, acting U.S. Attorney Matt Kirsch said in a July press conference, but he added the department can seek a waiver of the policy if it seems appropriate in a particular case. 
"There are some cases that are going to arise as a result of this initiative that the Denver DA's office is simply going to be better at prosecuting," such as homicide cases since they have to meet specific criteria for federal prosecution, Kirsch said. 
For one of Widick's cases for illegal weapon possession, the district attorney's office agreed to a personal recognizance bond based on the belief he would be held on his parole violation. But that didn't happen, according to district attorney Beth McCann's spokesperson, Carolyn Tyler. 
For a charge against Widick of vehicular eluding, McCann said the court set a personal recognizance bond despite prosecutors' recommendation for a $5,000 bond.  
The court set a $10,000 bond for Widick at the recommendation of prosecutors in a third case involving counts of menacing, possession of a weapon by a previous offender and violation of bail conditions. 
Pazen did not identify Widick in his recent interview, but The Gazette was able to confirm his identity through another source. 
"At what point do we realize that the neighborhood is terrified of this individual? They are up in arms over it. They clapped when the police arrested him the third time in there," Pazen said.  
ATF's Booth said he hasn't seen the political party of the president who appointed Colorado's U.S. attorney at any given time have an influence on the crimes that get prosecuted at the federal level. He also did not indicate  whether he believes any particular agency shoulders responsibility for potentially dangerous people receiving comparatively lenient release terms. 
Former Denver DA Mitch Morrissey and the current DA McCann "have different philosophies, but they have different things they have to answer to that I do not," Booth said. "So I can't put myself in their shoes, and I can't answer for them."  
Booth said the likelihood of a heavier penalty for felon-in-possession charges than in state court is a benefit of escalating a person's case to federal charges. A federal felon-in-possession count carries a maximum sentence of 10 years in prison.  
"There are certain types of crimes that we can have a heavier hammer on. Felony possession of a firearm, in the state, those can get pled down to a lesser felony, or sometimes dismissed or pled out as a part of another charge," he said. 
A bill passed by Colorado's legislature this year — a sweeping measure that mostly made tweaks to the misdemeanor code — narrowed state law restricting firearms possession by previous offenders to convictions for crimes covered by the Victims Rights Act.  
But it increased felon-in-possession offenses from a Class 6 felony to Class 5, which upped the maximum penalty from 18 months three years. The law change also makes a prison sentence mandatory if an offender brandishes or uses the gun while committing a crime.  
The Gazette reached out to the Denver lawmakers who sponsored the bill for interviews about the police department's partnership with ATF, but did not receive responses by press time. 
Denver law enforcement's concern over people with felony records possessing firearms comes as they have struggled to stem a spike in homicides that mirrors a nationwide increase. The number of homicides nationwide rose about 30% from 2019 to 2020, according to new data released by the FBI. 
Fifty-four of 61 homicides recorded by Denver police in 2021 as of Aug. 17 involved guns as the weapon used, according to data provided to The Denver Gazette by the department.  
Guns were used in about 66% of homicides in 2020 reported by the DPD, according to the FBI's data. 
One recent weekend, Denver police seized three illegal guns on Friday. They confiscated four the next night. 
Taking an illegal gun off the street is "not like writing a speeding ticket. Taking one of these illegal guns off the streets is inherently dangerous. And we're doing it at a record clip," Pazen said.  
Statistics from the department show police seized 1,170 guns between Jan. 1 and July 26 this year, about 26% more than a three-year average for that period from 2018 to 2020. 
Pazen said now that Widick faces 10 years in federal prison, "if convicted, he's going to do at least 85% of the time, and that neighborhood will be safe for a little bit."
JULIA CARDI and CHRIS OSHER The Denver Gazette

Reprinted from Amid rising crime, cycle of arrest, release and repeat frustrates Denver police | Local News | denvergazette.com