14 Denver officers honored by Citizens Appreciate Police
Co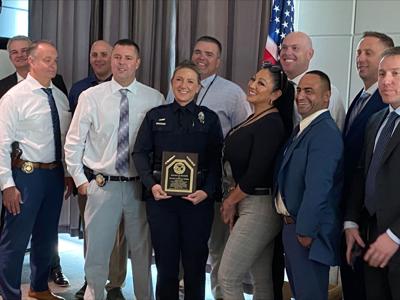 Denver Police Det. Katherine Urbina received an award from Citizens Appreciate Police on Wednesday, Sept. 13, 2023, for her compassion toward two shooting victims
during an investigation she led.  Courtesy: Denver Police Department
From chipping in to replace stolen Christmas gifts to helping a woman escape her abusive partner, 14 Denver Police officers received recognition for acts of civil service that the nonprofit Citizens Appreciate Police deem "above and beyond the regular call of duty."
On Christmas Eve Day last year, Officer Jonathan Hayes worked a telephone shift and took a report of a stolen car from a 65-year-old man, who said all the Christmas gifts for his ten grandchildren were inside. Hayes and six other officers went to Target the same afternoon to buy presents for the family, and delivered them that night.
The officers recognized included Hayes, Emma Tschirhart, Jose Manriquez, Kristin Miller, Matthew Prell, Yisel Justo-Santiago and Det. Cassandra Ulrich.
Tshirhart told The Denver Gazette the experience was empowering because she knew she and her fellow officers had been able to make the man's day better.
"So much of our day is negative, and we're helping people in their worst moments. And sometimes we don't get to help them as much as we want to," Tshirhart said.
Another officer honored received a surprise when two women victimized by a shooting she investigated made a virtual appearance at Wednesday's ceremony. Det. Katherine Urbina wiped away tears as the women thanked her for the empathy and compassion she showed them during the investigation.
"You provided us a safe place in the midst of chaos," one woman told Urbina.
The pin officers receive from Citizens Appreciate Police is the only civilian-awarded pin worn on Denver police uniforms. Officers are recognized by the nonprofit four times each year.
Officer Victoria Oliver believes a flash of "girl power" came together over a few days when another officer, two paramedics and Oliver — all women — helped a woman trying to escape her abusive relationship get on a plane to Chicago to stay with her grandmother. The young woman had endured abuse for weeks and was with her boyfriend when she got to the airport. She saw a detective — who Oliver said works in the department's domestic violence unit — working off duty and begged the officer for help.
Oliver bought the woman a new ticket, around $250, with her own money when the airline could not find any record of her booking. The woman stayed in a hotel until her new flight left, and paramedics kept in touch with her throughout the night because she was so fearful and had suicide ideation. Oliver and the paramedics got her through security and walked her onto the plane.
Oliver got a text from the woman when she landed in Chicago saying: "I love you. You're my angel."
She said she has not heard from the woman since, but thinks of her often.
"She was just she was such a kind soul and it was tragic, but it was empowering to to know, 'We did this for you and you can do this for yourself'."
The other officers recognized Wednesday include Jordyn Matthews, Cpl. Kindel Padilla, Officer Marty Deal, Officer Hailey Landwehr and Officer Matthew Jeffrey.
By Julia Cardi
September 13, 2023
Reprinted from 14 Denver officers honored by Citizens Appreciate Police | Denver Metro News | denvergazette.com